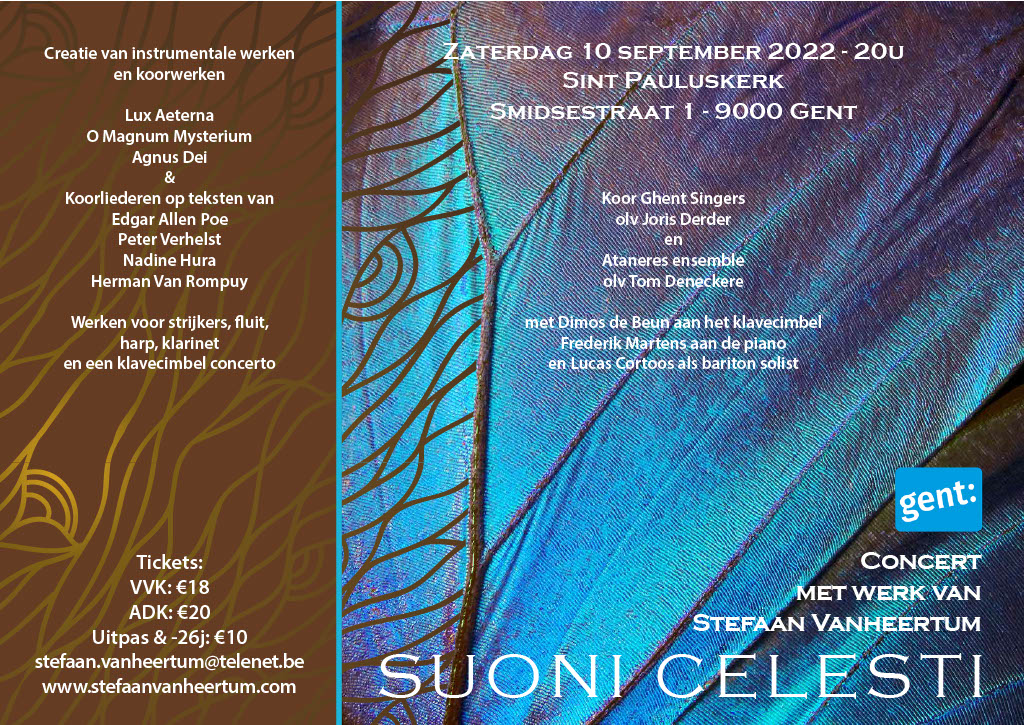 Dear friends,
The creation of new work written in 2020-2022 took place on Saturday September 10, 8 pm in the St Paulus church in Ghent, Belgium. It was a big succes. We now await the finalization of the cd recording that was organized the week before the concert. Stay tuned for the introduction!!
"Suoni Celesti"
"Celestial sounds" combines works for voices (solo and/or in different choir formations) with pure instrumental music.
Three works based on the Christian rite: Lux Aeterna (a capella version and one with string accompaniment), O Magnum Mysterium and Agnus Dei.
A song on a text by Edgar Allan Poe: "Spirits of the dead". A text with which the conductor, Joris Derder, has a personal link.
'Once upon a time there was water' based on a poem by the Flemish poet Peter Verhelst, written as an indictment of the way we are dealing with refugees. The poem was written in response to the shocking photo (2015) of a young kid (Alan Kurdi) that drowned in the Mediterranean Sea during a crossing.
'Mother Earth' song is based on a poem written by Nadine Anne Hura, a writer from New Zealand, at the beginning of the first lockdown in 2020. In her text, she combines the corona pandemic situation with the urgency of the climate crisis. The text was intensively shared on Facebook in May/June 2020.
In addition there will be the world creation of a new harpsichord concerto (the work was selected as semifinalist in the "Caleidoscope call for works 2020, University of Los Angeles") and various other pieces for string orchestra.
There will be one cd with choral music and one with instrumental scores. You can subscribe to each CD's at 12€ per piece through email to stefaan.vanheertum@telenet.be.
Best regards,
Stefaan Vanheertum